Biography
Marcos Díaz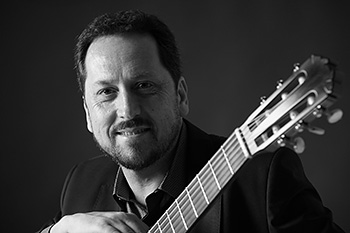 Widely recognized for his elegant musicality, masterful technique and stylistic precision, Marcos Díaz has garnered enthusiastic praise from audiences and critics around the world, establishing himself among the best classical guitarists of his generation.
After completing his musical training at the Real Conservatorio Superior de Música de Madrid, studying under Maestro José Luis Rodrigo and where he received the "Premio Extraordinario Fin de Carrera de Guitarra", he currently plays an active role in masterclasses with the most prestigious, internationally renowned guitarists, such as David Russell, Manuel Barrueco and Sergio & Odair Assad, among others.
Having been awarded first prize in the I Concurso de Guitarra "Ciudad de Ourense", Marcos Díaz set off on a brilliant career performing in highly reputable concert halls and some of the most respected International Guitar Festivals in Europe and the United States as a soloist: X Festival Internazionale della Chitarra Città di Mottola (Italy), VII Festival Chitarristico Internazionale Friuli Venezia Giulia (Italy), X International Festival "Gitarre und Natur" (Germany), IX Festival Chitarristico Internazionale Luigi Legnani (Italy), XII John E. Marlow Guitar Series (USA), XIII Festival Internacional de Guitarra Santo Tirso (Portugal), IX Festival Internacional de Guitarra Ciudad de Elche (Spain), 2007 La Guitarra California Festival (USA), "Ciclo Internacional de Guitarra" Auditorio Ciudad de León (Spain), X Gliwice International Guitar Festival (Poland) and the IV Festival Internacional de Música de Compostela Via Stellae (Spain), just to name a few.
His four CDs, released by the record company Ópera tres, have become musts in the guitar world. These albums include his recording debut, containing extraordinary versions of some of the most important compositions by Dowland, Sor, Barrios and Rodrigo; his highly acclaimed transcriptions of J. S. Bach's Six Cello Suites on two discs; and his original arrangements of some of Domenico Scarlatti's sonatas on his latest CD. All of his albums have been highly praised by critics internationally.
Beyond his recording commitments, concerts and publications, Marcos Díaz is a widely sought-after teacher who has inspired many promising young guitar talents, successfully transmitting his enthusiasm, knowledge and passion for music.